Showdown at the H2O Corral

Ann O'Neill


Tombstone, Arizona (CNN) There's a popular saying in the American West: Whiskey's for drinking, but water's for fighting over. This dusty little city, made famous by the Gunfight at the O.K. Corral, has a dilly of a water fight on its hands.

Tombstone, population 1,400, is suing the federal government and it is likely to be a landmark legal battle.

Over the years, Tombstone has survived fires and floods and all manner of shiftless varmints. But now "the town too tough to die" worries it's going to run dry.

The city sits in the desert but gets most of its water from springs in the Huachuca Mountains. Some of the springs are in a wilderness area protected by the U.S. Forest Service. From the Huachucas, the water runs 26 miles east to Tombstone through one of the longest gravity-fed water systems in the country.

Tombstone's water line was damaged in last year's massive Monument fire. The city says the feds are blocking emergency repairs that are critical to its survival.

In court papers, lawyers for the federal government say there's no emergency. Instead, they contend, Tombstone is using the fire's aftermath as an excuse to "upgrade and improve" its water system.

Kathleen Nelson, the acting ranger in charge of the Coronado National Forest, says the Forest Service has been letting Tombstone do some work, as long as it complies with the 1964 Wilderness Act.

In the wilderness, Tombstone can dig with shovels, not bulldozers. The new pipe can come up the mountain on horses, not in trucks.

Tombstone says that's no way to respond to a crisis that imperils the lives and property of its residents.

The dispute is starting to ping on the nation's political radar. The Goldwater Institute, a conservative public policy research organization based in Phoenix, has taken on Tombstone's legal representation.

The case is getting the attention of conservative bloggers, and Rush Limbaugh recently featured the water fight on his radio show, blaming everything on the Obama administration.

Tombstone is planning a June event that promises to propel the controversy into the national conversation: The Tombstone Shovel Brigade will be part protest, part work party.

The idea borrows from the Jarbidge Shovel Brigade near Elko, Nevada. Twelve years ago, several thousand people used chains, shovels and muscle to move a boulder and reopen a washed-out road the U.S. Forest Service had closed.

Tombstone has received about 500 donated shovels so far and hopes 1,000 volunteers or more will show up to fix the pipeline.

Some people are wondering why little Tombstone and its 700 water customers are worth all the fuss.

City officials are quick to respond: Tombstone wrote a colorful chapter in American history. It gets more than 200,000 visitors a year. And it's worth saving.

Wyatt Earp, Doc Holliday and that incident near not at the O.K. Corral brought Tombstone fame. The 30-second shoot-em-up on October 26, 1881, is immortalized in a string of Hollywood Westerns: "My Darling Clementine," "Wyatt Earp" and the eponymous "Tombstone," to name a few.

The gun battle is re-enacted daily in Tombstone. Tourists come from around the world to see it, retrace Earp's steps along historic Allen Street, check out the 140 bullet holes in the walls of the Birdcage Theater and read the markers at Boot Hill Graveyard, including this famous one:

Here lies Lester Moore

Four slugs from a .44

No Les no more.

Living in the wild, wild West

In Tombstone, the past and present tend to blur together. Stop at a convenience store on the outskirts and a pistol-packing cowboy in boots and spurs is likely to pick up some chaw and join the line at the register. There, they sell fake Tombstone water in bottles marked "XXXX."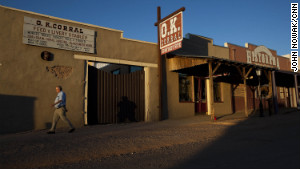 Wyatt Earp and Doc Holliday were in a famous gunfight with outlaw cowboys at Tombstone's O.K. Corral in 1881.

Tombstone has been a cattle town, a cowboy town, a gold town, a silver town and a copper town. It has cycled through boom times and bust ever since veins of silver first brought fortune seekers to this dusty corner of the Arizona desert.

Founder Ed Schieffelin was warned back in the 1870s that all he'd find here was his tombstone, and that's how the place got its name.

The desert can be an inhospitable place and it breeds people tough as Gila monsters. They are resourceful and resilient and don't cotton to being told what to do. They like being told what they can't do even less.

After the Monument fire, everyone got along at first. Tombstone asked for a Forest Service permit to make the repairs, then waited. By the end of October, the city grew tired of the wait and took an excavator up Miller Canyon, where two of its most productive springs are.

The Forest Service stopped city workers, and sharp words were exchanged. Positions began to harden.

Tombstone filed suit in December. A judge sent the parties into mediation in early February, hoping they could work things out. But talks broke down almost immediately.

Several weeks ago, the Forest Service stopped Tombstone from bringing in a wheelbarrow for the repairs.

Why on earth?

Rangers say the Wilderness Act prohibits "motorized" or "mechanized" equipment because it might damage the wilderness and disturb endangered species. The conversation showed how far apart the city and the rangers had grown, and how frustrated the city felt in following federal rules.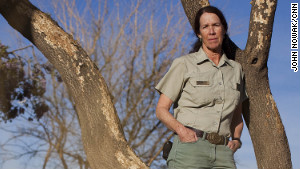 Kathleen Nelson is in charge of the Sierra Vista Ranger Station in the Coronado National Forest.

The rangers insisted the wheelbarrow was "mechanized" because it had a wheel. But Tombstone managed to persuade the Forest Service to ease the restriction and prohibit just "motorized" equipment.

That kind of bureaucracy sounds all too familiar to many Westerners. Forty years ago it fueled the Sagebrush Rebellion over federal control of millions of acres of land in a dozen states. Ronald Reagan, the patron saint of the Republican Party, told voters at a 1980 campaign stop in Utah that he was a proud Sagebrush Rebel.

The rebellion faded but never really died. Riding in the political dust stirred up by the tea party, the Sagebrush Rebellion is re-emerging this election year. Bills to seize control of federal land are burbling in Wyoming and Utah, and they're talking about it in other states, including Arizona, Nevada and New Mexico.

Tombstone is now at front and center of the movement.

"Forget the O.K. Corral. This is the ultimate showdown," said Christina Sandefur, a lawyer with the Goldwater Institute, which is representing Tombstone free of charge. She said it's a classic case of federal meddling.

Because the case raises constitutional questions about the relationship between local, state and federal governments issues of power and authority it is likely to go all the way to the U.S. Supreme Court.

Driving the drama is an eclectic cast of characters, the modern-day equivalents of Tombstone's early legends. There's a war hero mayor, a whip-smart school marm type, an all-knowing town clerk, even a steely-eyed stranger who rides into town, a purty gal at his side, just in time to save the day.

The story began nearly a year ago with a biblical, one-two punch of fire and water.

Fire on the Mountain

In June 2011, Mayor Jack Henderson uneasily eyed the peaks of the Huachucas. A decorated helicopter pilot, Henderson flew medevac missions for the U.S. Marines during the Vietnam War and passenger jets for United Airlines for 33 years after that. He doesn't rattle easily, but things didn't look good.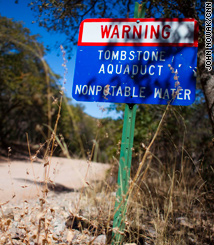 The Monument fire started at the Mexican border in early June. The billowing flames and smoke and ash bruised the Arizona sky, moving ever closer to Tombstone's 25 springs in the canyons.

Henderson ran his hands through a crop of white hair, chomped on his cigar and made a command decision: Shut that pipeline down.

"Soot and smoke and fire retardant were everywhere," Henderson recalled. "I didn't want that to get into our water supply. I shut it down so we wouldn't get any contaminants into our 26 miles of pipeline. It was a no-brainer."

Turning the water back on would prove to be a different story.

Flames swept through the Arizona side of the mountains on June 16, crossing Highway 92 below Carr Canyon, where Tombstone has some springs. By then, the fire had burned more than 40 homes and melted sections of Tombstone's original seven-inch steel pipeline.

Then things really got bad. The monsoon season began in July and brought record rainfall. Water rolled off the denuded slopes and gushed into the canyons, forming raging walls that tore down the remaining trees and ped Volkswagen-sized boulders.

"We knew we were going to have a problem," Henderson said, "but I had no concept of what kind of damage would be done by the monsoons."

When the rain stopped, some of the springs in Miller Canyon were buried under 12 to 15 feet of rocks and gravel and broken trees. It was total devastation.

"There was nothing left," Henderson said. "It looked like a moonscape. We lost the war up there."

A state emergency official told him: "You guys have had 500 years of erosion here in one day."

Henderson is not the type who wears a suit and sits behind a desk making phone calls. He donned coveralls and a hard hat and went into the mountains to assess what needed to be done.

"We had little gullies up there that are now wide valleys," he said. "We couldn't find the landmarks, and boulders as big as my pickup truck are gone. There was nothing we recognized."

In August, Arizona Gov. Jan Brewer declared a state of emergency for Tombstone and its water supply and freed $50,000 in emergency funds for the city to make repairs. Tombstone rented equipment and applied for permits, clearing all state and federal agencies, except for the U.S. Forest Service.

The city waited, and waited some more.

"We were dying here," Henderson said. The city's 1.2 million-gallon reservoir, a concrete tank built on a hilltop overlooking town, ran dry at the end of August. The city had to rely on water from its wells, one of which had high levels of arsenic. If a fire broke out, the city wouldn't have enough water to put it out.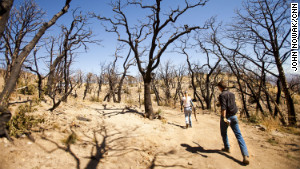 Tombstone city workers Kevin Rudd and Sherry Kammeyer walk through the charred forest in Carr Canyon.

Tombstone, Henderson said, was "one match away from disaster."

Tired of waiting, city leaders decided to push the point. Workers drove an excavator up to Miller Canyon and started moving rocks and clearing a reservoir. They were stopped by the Forest Service and ordered to stand down or, according to Tombstone, face arrest.

The rangers were arrogant, Henderson said. They referred to Tombstone officials as "children," right in front of them. Some rangers snickered during a hastily called meeting at the agency's Sierra Vista station.

"If you want permission, you'd better lawyer up," Henderson said he was told. "If you don't like the decision, I suggest you call Barack Obama."

Henderson said he "assumed President Obama was a little busy for that," adding, "That's when I began to get a sense of the smugness we were dealing with."

The Forest Service is not commenting on specific allegations raised by Tombstone because of the lawsuit.

Eventually, Tombstone did get a permit authorizing the heavy earth-moving equipment, but only for the work already under way. It was the last time Tombstone was able to bring heavy equipment into the forest.

As things now stand, the city would have to repeat the same permit process with nearly two dozen more springs.

Tombstone says it doesn't have that kind of time, that it has to move fast and with bulldozers and backhoes before the next rainy season washes away all the repairs it already has made.

So, the city followed the ranger's advice, lawyered up and took the Forest Service to court. Tombstone contends the rangers are misreading the Wilderness Act and is asking a judge to order the Forest Service to back down.

As a Marine, and later as Tombstone's mayor, Henderson said he'd taken an oath to protect the Constitution "from all enemies, foreign and domestic."

The Forest Service "seems to want to take all the water rights Tombstone has and give them to somebody else," he said.

"I consider them a domestic enemy."

The paper trail

Nancy Sosa was raised in Tombstone and she remembers the stories of fires and water shortages from childhood. She remembers hearing how, when the pipeline shut down, the well water left a chalky residue, the pressure ped and the town swimming pool stood empty in the summer heat.

She grew up, left Tombstone, studied archaeology and learned how to dig through old records and reconstruct history. She came back to her hometown so her kids could know their grandparents and has been Tombstone's official archivist since December 2010.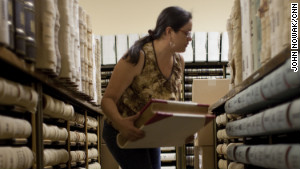 Tombstone archivist Nancy Sosa searches for documents at the Cochise County Recorder's Office.

Within a month or two, Sosa uncovered a treasure: A locked metal safety deposit box with the original records from the company that built the pipeline. Nobody can be sure how long it had been sitting in the basement of the old City Hall building. Covered in dust and discarded Styrofoam coffee cups, it contained the original deeds, maps, agreements and bonds to the springs and pipeline.

The documents had survived fire and flood. Some were charred, others moldy. Sosa restored and indexed them, sensing they were important, not yet aware of their value.

They told the story of how, either "by smart planning or dumb luck," as Sosa puts it, early leaders made sure Tombstone had a permanent and reliable water source.

The fledgling city's wooden downtown had burned to the ground twice, and the silver mines needed more water than the ground could give, Sosa said. Tombstone's Huachuca Water Company went into the mountains to tap the springs.

The result in 1881 the same year as the gunfight at the O.K. Corral was a pipeline that brings mountain spring water into Tombstone's reservoir.

Tombstone bought the water line after the company went broke in 1947. Along the way, there were a series of court decisions in Tombstone's favor. Sosa has copies of them all.

She has rebuilt a 130-year-old paper trail. If the maps helped Tombstone find its springs buried under rocks and debris, the other documents are helping the city prove its unbroken chain of ownership.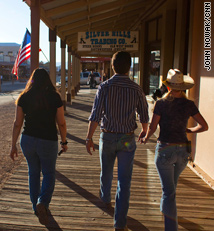 Tombstone says its pipeline was there first before Arizona became a state, before there was a U.S. Forest Service, before the Coronado National Forest was established, and certainly long before the federal Wilderness Act.

The city argues that its rights to the springs were grandfathered in at each step. But the Forest Service is not yet ready to concede. Right after Tombstone applied for its permits, a ranger was dispatched to Tucson to look for records to dispute the city's claim.

That escalated the fight.

Tombstone dug in. The city now insists it owns all 25 springs outright, and has the right to maintain five acres around each one, as well as 25 feet on either side of the pipeline. The city says it doesn't need anybody's permission to work on its own property.

"We had to fight to buy that water line in 1947, and we won," Sosa said. "We own that water line. In 1977, we had a similar fire, and we went in and made the repairs. In 1983, more fires again, and we're still here." Miller Peak became a federally protected wilderness in 1984.

Tombstone's newly found documents are kept in a climate-controlled room in a building a block from City Hall. Sosa wears blue surgical gloves when she handles them.

When Tombstone goes to court, she sits up front with the lawyers, assisting them with the nitty-gritty details.

"Who is that?" someone from the opposing side asked a friend during a bathroom break at the courthouse.

"Oh, she's from Tombstone," the friend replied, unaware that Sosa could overhear them from a stall. "They're all ignorant and inbred."

'Saving the city'

Kevin Rudd had been in Tombstone just a month or two when the Monument fire broke out. He was seeking a fresh start after the construction industry flat-lined in Tucson. He'd tasted success only to lose his business, his house and his shiny new truck to the recession.

"It got bad, really bad," Rudd recalled, shaking his head.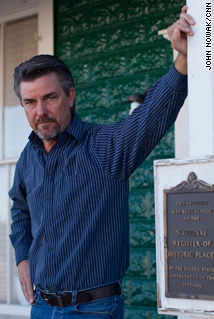 He'd been pounding nails since he was 16, and he knew a thing or two about managing big construction projects. He came to Tombstone with the idea of maybe opening a restaurant, but quickly figured out the plan wouldn't work. He was thinking about pulling out of town when destiny found him.

Sherry Kammeyer, his fiancée, had come with Rudd to Tombstone, and she found work in a bar, dealing Texas Hold 'Em. One night she dealt a hand or two to Jack Henderson, and they got to talking. Kammeyer introduced her boyfriend to the mayor.

"When the fires hit and the floods came, the light went on and he said, 'Wow, I could use a guy like you,' " Rudd said. Henderson put him in charge of the pipeline project.

Rudd didn't know much about the pipeline, but he made it his business to learn. Kammeyer, a certified construction site safety expert, also began working for the city.

"It was kind of a cosmic roundabout," Rudd said. "It was a crazy coincidence, but it really feels like I was supposed to be here, doing this job."

The first person he saw on the new job was Sosa, and she showed him the 1901 maps of the springs. He hiked in on trails and washed-out roads, and along the debris fields. He found the springs and assessed the damage.

It was still monsoon season, and more than once Rudd had to turn tail and run when the skies opened up.

"We'd come back and it would look totally different," he recalled. The spring in Carr Canyon, which had been surrounded by fire, was a quick temporary fix, but the one in Miller Canyon was "totally destroyed" by the rockslides.

Rudd and his crew, rarely more than half a dozen workers at a time, dug the springs out with shovels and picks, spending 10 to 12 hours a day in the canyons. When they found a spring, they surrounded it with sandbags.

CNN accompanied Rudd in February. The terrain was rugged, the air was clear, and the view was breathtaking. It was eerily silent.

Steering his city pickup past blackened trees along a rutted ridgeline trail, Rudd marveled at his blind, dumb, cosmic luck.

"Just another day in paradise, saving the city," he grinned. "I can't think of a better project to work on. I can't give this up for anything."

The work has been arduous. And Tombstone is not popular with the ranchers and retirees who live here, some of whom fear the city will trash the environment, trespass on their property and steal their water.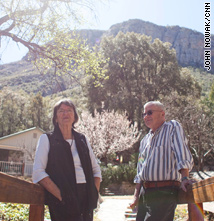 Three dozen mountain residents have signed a petition opposing Tombstone's bid to bring in heavy equipment.

Ralph and Rosemary Snapp live on five acres in Carr Canyon, in a cozy cabin surrounded by rock gardens and flowering fruit trees that attract brightly colored butterflies, moths and hummingbirds. They say they have always gotten along with the workers from Tombstone, but they are in their 80s and don't want to live in a construction zone.

"We're living in a place called Sky Islands," Rosemary Snapp said. "It's a fragile, unique environment. We're trying to preserve a corridor for the wildlife, to have a place where naturalists like to come to do research on moths and butterflies, snakes and all the flora and fauna here and to let people have a place to come to be back to nature."

She continued, "The land has changed, but it has changed naturally. We want to push against any digging and further excavation causing erosion. We want to live with nature here."

Her husband just wants to maintain the status quo with Tombstone.

"We don't have any problem with the current water line," he said. "We just don't want to see a huge expansion."

Others have placed boulders in the middle of trails, and the pipeline has been vandalized. Rudd has been confronted and threatened, but he won't be chased off.

He doesn't hesitate to remind anyone who crosses his path that Tombstone considers the pipeline its property. And so, he is known among the mountain folks as "Kevin Rude."

If uncovering the springs was hard, hooking them up to the pipeline was even more challenging. Rudd's team dug trenches by hand in some places, ran PVC pipe along the top of the ground in others, laying down about 10,000 feet. Except for the one time they drove an excavator up in October, Tombstone's workers have done the work by hand, just as it was in the late 1870s.

On the day of CNN's visit, about 20 prison inmates worked the pipeline. For three days, they carried sections of pipe up the mountain on their shoulders and dug trenches. Tombstone showed its gratitude with pizza.

"I can't thank you guys enough," Rudd said. He estimates the inmates saved him and his small crew about six weeks' worth of work.

A few days later, Rudd was able to connect two of the biggest springs and direct the water into a makeshift basin downstream. Since the beginning of March, work has slowed because the Mexican spotted owl, an endangered species, is said to be nesting in the peaks above the pipeline.

Rudd doubts there are any owls up there.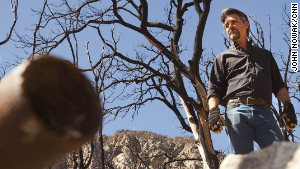 Kevin Rudd surveys broken pipe at one of Tombstone's springs above Sierra Vista, Arizona.

"Listen. What do you hear? Absolute silence. It's completely still. It's devastated," he said. "Now is the time to come in and fix the pipeline."

But Nelson, the acting ranger in charge, said some owl sightings have been reported.

CNN returned to Tombstone in mid-March, and by then the water was flowing, if not at full speed. Rudd's makeshift pipeline was up and running.

Rudd pulled back the corrugated steel lid on the city's hilltop reservoir and peered inside. Bone dry in August, it was now about a quarter full. The water was so clear, it was easy to see the bumps in the concrete bottom.

"I love that sound," Rudd said, as water from the mountain springs poured into the reservoir.

It's a temporary fix and he dreads what the rainy season might bring if the city can't get its heavy equipment into the wilderness in time.

"It's likely to get washed away in the first rainstorm."

Politics as usual?

"In the past, we had essentially no issue with the Forest Sevice," said Tombstone City Manager George Barnes. "They would issue whatever permits we needed. This time, the world seemed to have shifted."

He doesn't know why, but suspects "a lot has to do with the cast of characters." Somewhere along the line, things got personal.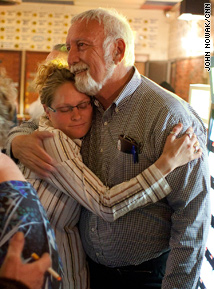 In the days of the Old West, that's when the guns came out in Tombstone. Now, they summon the lawyers and put recalls on the ballot.

While he was battling the Forest Service, Jack Henderson made the mistake of ignoring his political foes. And so, on March 13, he became the first mayor to be recalled in Tombstone's history.

Barnes, who oversaw the collection of the ballots, was among the first to know even before Henderson made the announcement to a crowd of supporters gathered next door at the American Legion Hall.

"You folks have a new mayor," Henderson said, greeted by a group groan.

Nobody that night could really say what the recall was about not even the winner, Stephen Schmidt.

It only takes one vote to change the course of history. Henderson lost by 51.

Schmidt seemed surprised he'd won and not quite sure what to do about it. He did not seem to know much about the pipeline or the legal battle. He didn't appear to have a water plan, except, perhaps, to look into drilling more wells.

A former councilman who runs a local bar, Schmidt said Henderson was "a good guy" who had been doing a good job after a shaky start. Small town people are usually unhappy with the status quo, especially when times are tough, he said.

Schmidt campaigned against what he considered unnecessary expenses, putting Sosa, the city archivist, near the top of his hit list.

"We don't have a public works director and we have a city archivist?" he told CNN as someone cranked up Bon Jovi's "Dead or Alive" on the speakers outside his bar, Johnny Ringo's. (The bar takes its name from one of the cowboys who battled Wyatt Earp.)

Sosa, knowing she's a potential target, cleaned out her office on election night. But she is continuing her work at the archives, at least for now.

Rudd dodged a pink slip last month, when Schmidt suggested cutting the pipeline project from the budget to save money. But the new mayor backed down after the Goldwater Institute advised against it and the City Council split on the issue.

Barnes, the city manager, hopes the council can keep the lawsuit on track.

"Now is one of those moments of necessary maturity," said Barnes, a retired Xerox manager from upstate New York. "They either step up and become the functional group they have to be or they don't and things stop."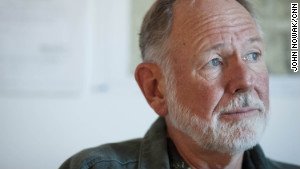 Tombstone City Manager George Barnes hopes Tombstone's city council will keep the water fight going.

There's a lot at stake: Mountain spring water is flowing into Tombstone for now, the city is suing the federal government, Rush Limbaugh is making the case a national election year issue and the shovel brigade is coming to town.

If Tombstone doesn't rise above its habit of factions and bickering, it just might shoot itself in the foot.

For now, Schmidt seems satisfied to let the Goldwater Institute carry on with the lawsuit because it is costing the city virtually nothing.

He has filed papers to run for mayor in the August primary. Henderson also is considering another run at the office, and there's a third candidate in the race.

Meanwhile, everyone will be back in court, probably by the start of the rainy season, July 1.

In Tombstone, they're still talking about one courtroom exchange that made their jaws . One of the city's lawyers was grilling a Forest Service supervisor.