The State and Federal funding problems for California High Speed Rail have been well documented. Some of the proponents have looked to China as a possible 'private investor' to bail out this project. Please note the article below about the Chinese HSR project and its many problems. Perhaps, it is time for Governor Brown to put an end, or at the very least a delay in further consideration of the California High Speed Rail Project until the Federal and State governments get their fiscal houses in order.

In addition to the first article below we also have several others: if you keep scrolling past the China article you'll also find "Let's Face It, High Speed Rail Is Dead" and "In Central Valley High Speed Rail Oppositioon Runs Deep." To be honest, we're having trouble keeping up with all the negative articles about HSR, and it's difficult to put them all in one newsletter. If you'll also look to your left we have also linked to two other articles: HSR Misery links to an Orange Country Register Editorial "Put Bullet Train Out of Our Misery"; Boondoggle links to another Orange County Register article about the "High Speed Rail Boondoggle Fact of the Day."

There is no doubt that we could put together a daily newsletter filled with negative articles and editorials about high speed rail. We don't believe there has ever been a government project that has limped along so stubbornly when the facts are so negative and with this much bad publicity.

Oh, and before I could send this off, this just in: Pringle Quits California HIgh-Speed Rail Authority Board

If you enjoy our newsletter, please pass it along to friends. If someone sent this to you and you'd like your own free subscription, please sign up here. If you'd like to respond to this newsletter just 'reply' and we'll get your feedback.

latimes.com
China's high-speed rail glitches: Racing to make errors?
Problems with China's new high-speed rail line between Beijing and Shanghai have added to suspicions that the government had rushed several big projects in order to have them open in time for the Communist Party's 90th anniversary celebration.
By David Pierson, Los Angeles Times
Reporting from Beijing

China's high-speed rail line between Beijing and Shanghai has been beset by glitches in the two weeks since it opened to great fanfare on the eve of the Chinese Communist Party's 90th anniversary celebration.
In the first incident, a short-circuit delayed 19 trains in Shandong province on Sunday, knocking out air-conditioning and leaving passengers sweltering inside the luxury cars for hours.

On Tuesday, another power outage brought 30 trains to a temporary halt. And on Wednesday, a transformer malfunction slowed a train to half its top speed, forcing passengers onto a backup train.

Though officials blamed thunderstorms and wind for the problems, the delays add to the suspicion that so-called face projects had been rushed in China to open in time for the party's anniversary on July 1.

The projects include the world's longest sea bridge, which opened June 30 in the northeastern city of Qingdao without lights and guardrails in some sections. A China Central Television reporter inspecting the 26-mile Jiaozhou Bay Bridge found nut caps loosely fastened into existing guardrails. Construction workers told the state broadcaster that they still needed two months to complete the span.

In another controversy, workers rushed to install temporary granite flooring in the newly built Nanjing South Railway Station to meet the anniversary deadline. Ten days later, they were seen tearing up the tiles in the state-of-the-art station, said to be the biggest in the world at nearly 5 million square feet.

The renovations will cost about $1.5 million, a fraction of the super-structure's total $1-billion price tag.

Cities and ministries often present gifts on important dates to bestow respect and legitimacy to leaders. The tradition dates to imperial times and has not been lost under communism. It is not unusual for China to unveil its latest weapons on Oct. 1, the country's National Day.

The party's 90th anniversary was a particularly significant event that has been marked by large galas, a spike in travel to communist battle sites and the revival of revolutionary music known as red songs. It made for a unique set of pressures for construction workers who had to meet the deadline.

"Other countries don't have these political issues," said Zhao Jian, a professor at Beijing Jiaotong University and a longtime critic of China's high-speed rail program. "But a lot of other projects are rushed too so they can make profits."

The string of incidents in recent days has generated no shortage of ridicule online.

"The Jiaozhou bridge started operating when it's still incomplete; Nanjing South Railway Station continued construction after it was opened; what are we rushing for? Are our hormones still normal in these days of red songs?" wrote Fan Jisheng on Sina Weibo, the country's wildly popular micro-blogging service.

A video shot by a passenger of a weeping attendant on one of the bullet trains stranded on Sunday has gone viral. The rail employee was shown being surrounded by angry travelers, one of whom was berating her for crying. "You can't try to solve the problems with your tears," the passenger said.

The rail mishaps are particularly embarrassing because the $32.5-billion project was considered the crown jewel in China's ambitious high-speed network. The Ministry of Rail had already come under fire for a massive corruption scandal this year over alleged safety flaws and high-priced tickets.

It did not help that a spokesman for the ministry boasted last week that China's new trains were superior to Japan's. The comment was in response to threats by Japanese companies to sue if China patented high-speed rail technology they believe originated in Japan.

The breakdowns this week no doubt elicited a level of schadenfreude in the Japanese media, something that wasn't lost on rail ministry spokesman Wang Yongping in an online chat with the public Thursday.

"We welcome foreign media's good-natured criticism and reasonable suggestions, but are sad that some media outlets are gloating," Wang said. "They should make sure they are taking care of their own business before they make these sorts of comments."
Let's Face It, High Speed Rail Is Dead
New Geography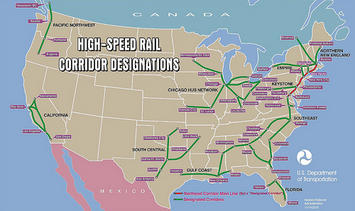 Advocates were ecstatic when President Obama had $8 billion for high speed rail put into the stimulus bill. His administration planned to make HSR one of the cornerstones of its infrastructure investment program. Secretary of Transportation Ray LaHood visited Europe to check out HSR there in person and came back proclaiming, "High speed rail is coming to America." The $8 billion, we were told, was a down payment, and that in little more than two decades, America's largest cities would be linked by a web of high speed trains.

But as it turns out, a series of snafus and reversals has left Obama's HSR agenda on life support.

First is the public perception of the failure of the stimulus bill. Unemployment never came down to projected levels. Spending largely went to keep state and local government workers already employed, not towards infrastructure or new jobs. Obama has since admitted he was mistaken to believe there were such things as "shovel ready" projects for even roads, much less a complex undertaking like high speed rail. But more importantly, rather than put that $8 billion towards focused projects that would really advance the ball of high speed rail in America, it was peanut butter spread across a large number of projects around the country, ultimately not driving significant improvements. This feeds the perception of $8 billion that just went "poof."

At the same time, the federal deficit ballooned to $1.5 trillion and the national debt to an astounding $14 trillion. Virtually all parties agree on the need to address our massive structural deficit. The Tea Party focused on a hodge podge of issues, but primarily on reducing government spending. The movement grew to prominence and fueled a Republican comeback in the 2010 elections. In this environment, getting anything done will be difficult, and especially funding items like HSR that are easy to characterize as frivolous and favoring just a few urban regions.

The biggest impact may have been at the state level, however, as a wave of new Republican governors ripped up HSR plans and sent stimulus funds back to Washington. This includes Scott Walker of Wisconsin, John Kasich in Ohio, and Rick Scott in Florida, all of whom said "thanks, but no thanks" to federal rail funds.

But beyond those philosophically opposed to HSR, some high speed rail advocates have done themselves no favors either. They've resolutely backed pretty much any and every rail project regardless of whether it is potentially useful or an outright boondoggle. They've engaged in false advertising by labeling 110 MPH peak speeds as "high speed rail" instead of what it really is:Amtrak on steroids. (One of the more serious HSR advocates is Richard Longworth, who labeled the Midwest 110 MPH rail plan the "Toonerville trolley"). Nevertheless, Illinois is pocketing well over $1 billion of the HSR stimulus funds for this "high speed" system that will offer end to end journey times that are at best only slightly better than what's already being provided today by Megabus – and that for only a handful of trains a day on a line still subject to freight interference.

Advocates have excoriated opponents to high speed rail, but have shown themselves largely utterly unserious about the enterprise as they have put no focus on overcoming major institutional barriers such as the steam road era thinking of the Federal Railroad Administration which is stuck in the 90s – the 1890s – or the mismanagement at Amtrak. Getting to an HSR system that works is going to involve major reform (or replacement) of those agencies since all proven, international HSR systems are illegal in the US under current rules. Witness here also the histrionics about a Republican proposal to privatize the Northeast Corridor rail operations rather than engage with it as a starting point. Even in Europe and Japan, many HSR operations are private, so there's no reason they can't be in the US too.

To be clear, though I myself have been ambivalent about the high speed rail enterprise, I do not consider myself anti-rail in the slightest. I agree that HSR could bring potentially significant benefits, particularly in the Northeast, although it's a somewhat more speculative enterprise in most parts of the country. This is one on which reasonable people can disagree. But however one feels, getting to the benefits will require a properly designed and operated true high speed system, something few of the current proposals would provide.

It's time to take a major gut check on high speed rail in America and rethink the direction. Clearly, with the budgetary and political situation, significant future HSR investments are unlikely. Even if some billions materialize, the experience of the stimulus suggests that they will be frittered away as salami slices sent hither and fro.

A better approach might be to take some time to think more clearly about what we want high speed rail to look like in America. It starts with learning from best – and worst – practices abroad, while noting the important differences versus the US. We need to put a proper regulatory regime in place and reform the FRA; to set up a framework for a successful privatization of any system, probably with operations contracted to an international operator with high speed experience; and to jettison any thought of Amtrak as the ultimate HSR system operator.

We can then prove these concepts out in the one corridor where high speed rail is clearly a slam dunk in America: the Northeast Corridor from DC to Boston. Despite what the Acela brand might imply, this is far from high speed service today, and there's clearly room for vast improvements. Studies can proceed in parallel in other regions, and one we've proven in the NEC that HSR can be for real in America, other regions might opt in.

In short, it's time to stop pretending we are going to get a massive nationwide HSR rail network any time soon. Advocates should instead focus on building a serious system in a demonstration corridor that can built credibility for American high speed rail, then built incrementally from there. That's about the best hope for HSR left in America. Without a rethink of the current approach, high speed rail is well and truly dead.

Aaron M. Renn is an independent writer on urban affairs based in the Midwest. His writings appear at The Urbanophile.


California Watch
In Central Valley, high-speed rail opposition runs deep

The state's plan to route the California bullet train through some of the richest agricultural land in the Central Valley has encountered intense and unexpected opposition.

It even roiled last week's Kings Fair in Hanford, where the lavender "people's choice" ribbon in the photo contest went to a picture of a bullet train running through a ranch-style home.

Winning photographer Reanna Bergman said she created the image on her computer, combining a publicity photo of the bullet train with a shot of the house in Hanford she shares with her husband and three kids.



As often happens, art was inspired by life: The Bergmans learned recently that the state High-Speed Rail Authority's right of way goes through their living room. The image sums up her feelings about the situation, she said.

When she entered the photo in the fair, "I didn't even know if (the judges) would accept it – it's a collage, or whatever you want to call it," she said in a phone interview.

"But when I got down there, they were really excited about it, because the Kings Fair people are anti-high-speed rail."

It wasn't supposed to be this way.

The rail authority presumed that its $45 billion construction project would face environmental and political opposition in the San Francisco Bay Area and Los Angeles basin. Rail authority officials chose to build the first segment next year in the valley because they were confident the project would be welcome.

But as a panel of rail experts, called the peer review group, noted recently, when it comes to the bullet train, "local opposition emerges when any route approaches finalization."

In the valley south of Fresno, the issue is the right of way. Farmers presumed the bullet train would run along the Highway 99 corridor to Bakersfield.

Instead, the route heads due south from the highway, through pastures, orchards and residential portions of Hanford. Also in the bullet train's path: a series of high-tech dairies that are valued at $100 million, says dairyman Joe Machado, 50, owner of a 1,000-cow dairy that is among those targeted.

Some opponents in Kings County have taken to protest. They turn out at rail authority meetings – yesterday's was in Bakersfield – and they have a Facebook page, Californians Against High Speed Rail-Kings County.

One anti-rail activist is Frank Oliveira, who with his siblings owns four farms that lie in the bullet train's path. His protest is inspired by literature – Frank Norris' "The Octopus," the famed novel of conflict over property rights between 19th-century California farmers and a heartless and rapacious railroad.

As Oliveira notes in "The Octopus Revisited," a series of essays posted on the Facebook page, Norris' novel is based on the true story of a land dispute between Hanford-area farmers and the Southern Pacific Railroad. It resulted in the 1880 Mussel Slough incident, a gunfight between farmers and reputed railroad men in which seven died. As Oliveira wrote recently:

It is weird how after 130 or so years, here we are doing battle with the railroad all over again.

What is at stake again are farms that are still the economic engine of this area.

For those of you that know me, you know that I am clearly critical of and opposed to what the California High-Speed Rail Authority (CHSRA) is about to do to the citizens and businesses of Kings County.

The CHSRA's current plan will seize chunks of 311 private farm properties and bring few if any benefits to our community. …

Some of you also know that I am a history buff and I muse sometimes at how history seems to repeat itself.

I am not suggesting that anyone take arms against the CHSRA as the farmers did in 1880.

Please do not call the sheriff yet.

I do believe that now is the time for us to directly battle the CHSRA administratively, legally and politically to protect what is ours, our way of life and our children's futures.

More protests could be in the offing today in Merced, where state Sen. Anthony Cannella, R-Ceres, is hosting a hearing on the bullet train's impact on California agriculture.

Cannella "believes high-speed rail has great potential but is concerned that legitimate issues that have been raised were not addressed," said spokeswoman Jessica Hsiang.

Read more: http://californiawatch.org/dailyreport/central-valley-high-speed-rail-opposition-runs-deep-11512